For my first blog, I can't help feeling somewhat sentimental over a childhood memory. It actually started earlier this morning, when I was looking at a 17th century map by Nicolaes Visscher. It is called BELGIUM FOEDERATUM EMENDATA AUTCUM ET NOVISSIMA, showing the united provinces of the, since the 1648 Münster peace treaty, newly independent Netherlands. This is the map that Rembrandt would have known, and probably has used as well. In his time, my birth village Lisse was situated on the banks of a vast lake with Amsterdam on the other side. When Rembrandt travelled from his home town Leiden to Amsterdam, he certainly would have done that by boat, which was a journey of at least half a day. After the lake was drained and turned into initially rather wet farm land in the second half of the 19th century, one century later a comfortable highway connected the towns and villages, reducing the travelling time from my birth village to the capital to less than an hour. Which is evenly very convenient for the masses of tourists who come to visit the national flower bulb park Keukenhof on the north-west  border of Lisse.

The scene of this particular childhood memory starts with sitting in a family car on our way from Lisse to Amsterdam. Although in 1977 the overall perception of our nation's capital had explicitly become coloured by the sex, drugs & rock-'n-roll reputation of a small but dominant minority of the baby boom generation, which on the other hand was firmly rejected by the majority of the conservative mainstream, like my parents, our destination in Amsterdam that day was a quite different one. Klarenbeek senior had decided that it was time that his youngest son, for showing remarkable talent in drawing and painting, should be confronted with 'the real thing'. Our destination was HET RIJKSMUSEUM, our most important national museum, where my father wanted to show me the best works of the best painters he could think of. Up until this day I am still grateful for his decisiveness, because this visit to Amsterdam literally changed the course of my life.
After we were able to find a parking space close to the museum, obtaining two entrance tickets and climbing the impressive stairs to the gallery spaces filled with numerous canvasses of the most illustrious 17th century masters, this 13 year old boy was instantly blown out of his socks. Of course I had seen reproductions of these famous paintings before, but for instance standing in front of Jan Asselijn's huge canvas of a THREATENED SWAN, for the first time in my life I felt the sensational and also physical excitement of experiencing such an impressive painting. I was absolutely convinced that I could even smell not only the ferocious swan, but also the oil paint it was made of.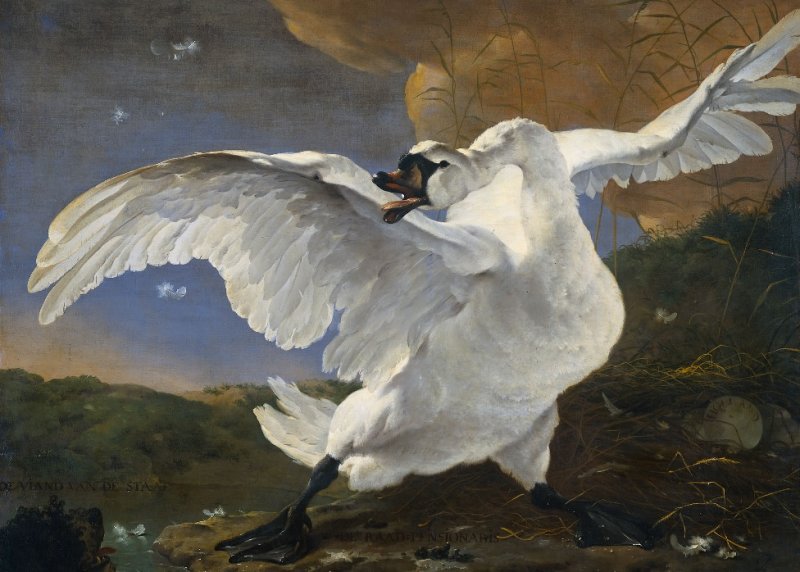 But that was nothing compared to what my youthful senses were subjected to in the adjacent museum room. When my father took me there he told me that I should have a good look at the enormous canvas at the end of the gallery space. Of course, the NACHTWACHT, Rembrandt's most famous painting, proved to be more overwhelming in its natural state than any reproduction could have suggested. I remember feeling both physically small and mentally dazzled at the same time. A new world had unexpectedly and dominantly opened itself up to me, quite literally in my face, provocative and overwhelmingly defiant. It was new and it felt good – and for me, although the art works in front of me had thoroughly dried up for centuries, it contained the unmistakable smell of paint.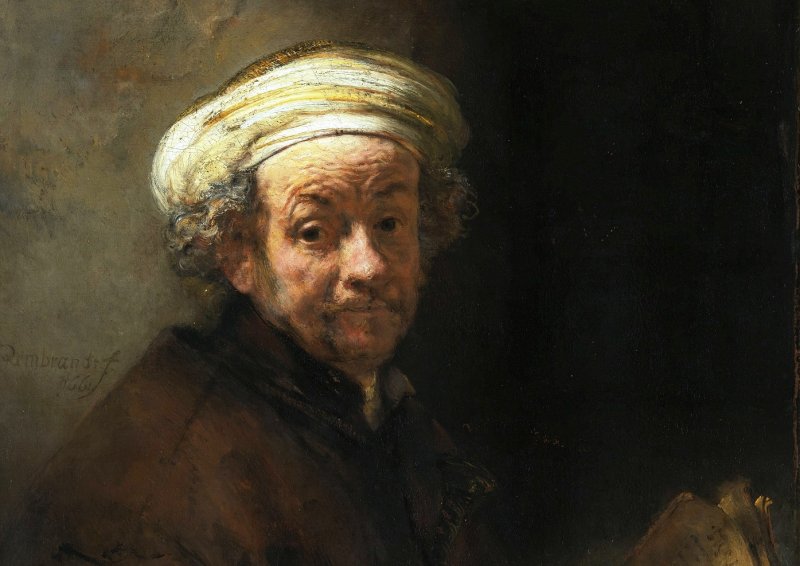 But even a huge and impressive painting like the NACHTWACHT was suddenly bleached out of my over-stimulated mind that afternoon, when I found myself standing in front of Rembrandt's remarkably humble as well as overwhelming self portrait as the apostle Paul. In nothing dressed to impress, neither any form of over detailed vanity seduction here, but merely a shockingly alive illusion of paint becoming flesh and vice versa. Of course, these are the smart words I learned very much afterwards, so I can describe now what I was only able to experience then. Being only thirteen years old, and still considerably smaller than the average museum visitor, my eye level of course was much lower than Rembrandt's on the wall. Looking up to the vivid face with the melancholic glance of this tangible man, whose bones decayed for more than three centuries, it excited me to see him undoubtedly alive, staring back at me. And he didn't let go. Whatever position I took, impatiently walking from the left to the right in the overcrowded gallery space, the empathic glaze of his eyes was constantly following me. Struck by the force of illusion of just a piece of stretched canvas with some paint smeared onto it, I realised for the first time what a powerful effect a painting, even hundreds of years later, could have. In my mind this unexpected door swung fully open and it was clear to me that from that moment on, with the fresh air blowing in my face, everything would be different. Of course these words are all in retrospect, but I must admit that on that very moment, standing in front of this daring and provoking staring-back painting, I decided that it was inevitable for me to become a painter. Just like young boys are, and of course should be, decisive by urge, competitive by desire and just as much foolish by nature, I looked up to Rembrandt's seemingly pitying eyes. With my inner voice clearly but silently in my mind I felt the urge for a boy-to-man confession. Although rather uncomfortably standing in the middle of a crowd of tourists gathering around another famous artwork, with my hands deep in my pockets, I admitted to the master on the wall that his painting was really the best I had ever seen – and I promised him solemnly to work so hard, that one day I would be even better.
Even now, almost forty years later, I have to admit that I am still not able to keep up to the latter part of my promise. When I occasionally visit Het Rijksmuseum and find myself standing in front of this magnificent painting, the master's gaze has changed a bit. Continuously and miraculously it seems to have adjusted itself to my ever changing moods. Whatever I might be mirroring in him, I can't blame him for still staring silently back at me.

René Klarenbeek / August 28th 2016