The oldest part of the unique collection of the Mauritshuis in Den Haag consists of paintings that used to be owned by stadtholder Willem V, prince of Oranje-Nassau (1748-1806). Willem started collecting art at a young age. In 1774, he created a gallery for his collection of paintings at the Buitenhof in The Hague. He opened the gallery a few times a week to (properly dressed) visitors who would have to purchase a ticket for it. This makes the Prins Willem V Galerij the first public art collection in the Netherlands.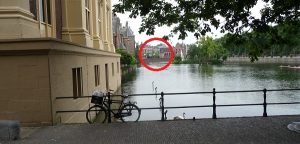 In 1795, the collection was taken to Paris as spoils of war by Napoleon's troops, and exhibited at the Louvre. It was only 20 years later, in 1815, that the collection largely returned to the Netherlands. In 1816, king William I (1772-1843), the son of stadtholder William V, donated the collections of his father to the Dutch state.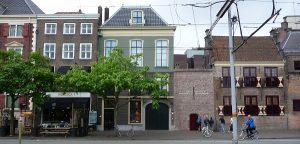 In 1822, because the exhibition space became too small for the growing collection, 'Het Koninklijk Kabinet van Schilderijen' (Royal Picture Gallery) moved from the site on the Buitenhof to the then available Mauritshuis, on the opposite side of the Hofvijver. From this moment on, the Mauritshuis became a proper museum, together with the Prins Willem V Galerij as its origin as well as satellite around the corner, which still can be visited in its recently restored formal glory.
On the walls of the Prins Willem V Galerij, the most prestigeous and by far most beautiful exhibition space in Den Haag, amongst all the masterpieces on the walls one can find quite an intriguing painting by Caesar van Everdingen (1617-1678), who was a Dutch portrait and history painter of an outstanding quality. This unusual both history as well as group portrait painting is one of the most remarkable he ever made.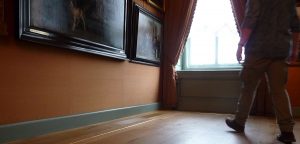 The painting, actually an outdoor group portrait of the Steyn family in 1652, even including some of their ancestors, also depicts the ancient Greek philosopher Diogenes (c.412-323 BC.) as the main protagonist. Remarkably as well as anachronistically he is not showing up on a Greek, but on a Dutch 17th-century marketplace, conducting his search with a lantern in broad daylight. In this anecdote, which originated in classical times but was widely represented in Dutch art, Diogenes, being asked what he was doing, replied that he was looking for a true and honest man. "But there are people all around", the bystanders remarked, to which he denounced them one and all as less than human, as "men only by name and beasts in their deeds."